The blog is our main discussion forum with with an eclectic selection of authors and thought-provoking articles. Grab a cuppa and join the debate, your contribution is always welcome.
---
Posted by: Editor in Election, Labour April 19, 2015, 6:22 p.m.

Is Labour now considering Scotland is lost?
As if Labour in Scotland didn't have their troubles to seek Miliband is now trying to make an explicit appeal to Tory voters in England. In an interview given to The Observer he states:
Posted by: Editor in Election April 10, 2015, 6:18 p.m.

The Times/YouGov poll puts SNP on 53 seats
A YouGov poll commissioned by The Times puts the SNP on 49% (up 3 points) and Labour on 25% (down 4 points). Translated to seats this would give the SNP 53, Labour 4 and Tories and LibDems on 1 each.

There is only one winner!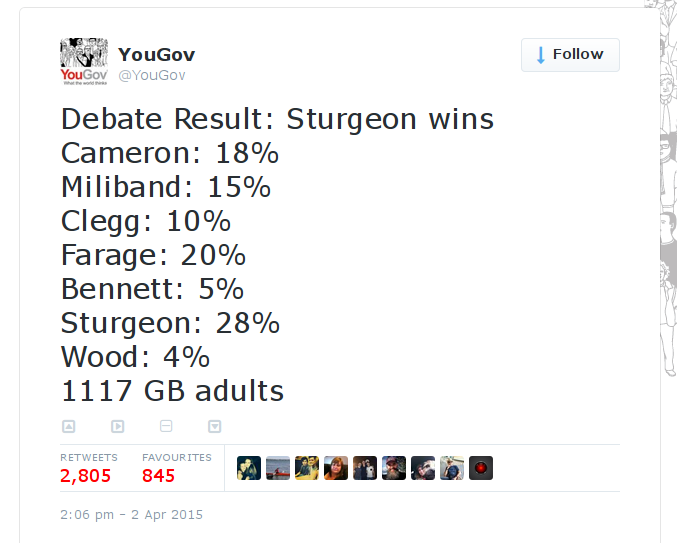 Posted by: Editor in Election March 27, 2015, 6:04 p.m.

The results are in...
Following on from the stunning SNP win in Glenrothes West and Kinglassie here are the results for the other Scottish by-elections held yesterday.
Posted by: Editor in Election, SNP March 27, 2015, 6 p.m.

SNP now control the town's area committee
SNP candidate, Craig Walker, takes over 55% of the vote in the Fife by-election. The second placed Labour candidate took just over 35%.
Posted by: Editor in SNP March 22, 2015, 5:55 p.m.

Will member no. 100,000 get a special prize?
Posted by: Editor in Labour March 11, 2015, 5:49 p.m.

The Co-op is "owned by our members"
The Co-op group (which includes the supermarket, insurance, banking and many other businesses) funds The Co-operative Party. It is a party which many people won't have heard about because it does not stand candidates in its own right in elections. Instead, the Co-operative Party works in an exclusive partnership with the Labour Party. Most customers of the Co-op won't be aware that their spending is funding Labour Party candidates.
Posted by: Editor in Labour, Tory March 9, 2015, 4:11 p.m.

SNP in Tory billboard (for England only?)
Grudging admiration?
Posted by: Editor in Humour, LibDem March 1, 2015, 3:39 p.m.

Yes lost and don't you forget it
The Daily Mail is reporting that our old friend Danny Alexander will unveil a logo tomorrow which which will be placed onto any capital project funded by the UK government.
Posted by: Editor in LibDem Feb. 27, 2015, 3:35 p.m.

"It's Danny or the Nationalists"
It will be the Talk of the Glens all right but probably not for the reasons Danny would be hoping for.