Viewing posts for the category Polling
Posted by: Editor in Media, Polling Jan. 31, 2017, 11 p.m.

Plumbing the depths
It is a common political technique to do some research prior to launching a campaign or announcing a new policy to assess how voters might react. Sometimes this research takes the form of focus groups, sometimes it is opinion polling. If you want to get genuine responses it is usually advisable to get an agency or polling company to conduct the research anonymously otherwise the respondents may tailor their answers according to their political prejudices. In recent times, with the prevalance of the Internet, online opinion polling is probably the most common and cost effective. The polling companies then manage panels of voters who they invite to complete the polls.

Upgrade from Princess last week
The headline and photo editors from The Times (Scotland) decided to have a bit of fun.

There is only one winner!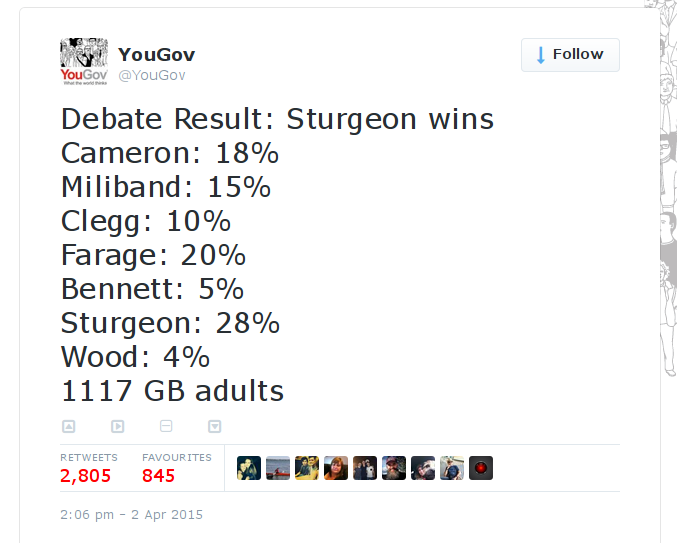 Posted by: Editor in Polling Oct. 30, 2014, 1:07 p.m.

Scotland electoral map turns yellow (maybe)
STV have published the findings of an Ipsos Mori poll of Westminster voting intentions if there was a General Election tomorrow.
Posted by: Editor in Humour, Polling June 11, 2014, 2:50 p.m.

1966 and all that
We were looking around on the website of the polling organisation Survation when we came across a little curiosity of a poll commissioned by the Huffington Post and published on June 11th.

Ooh, it's getting close
This latest poll commissioned by the Sunday Herald and conducted by Panelbase has No on 52% and Yes on 48%. This poll would seem to confirm the continuing move from No to Yes. Could we see parity or perhaps even a Yes lead before the end of the month? If we did it might be quickly followed by other newspapers changing their stance and even some major political defections.

That Was The Week That Was ... and it's only Tuesday
Well, it has been some week already and it is only Tuesday.