The blog is our main discussion forum with with an eclectic selection of authors and thought-provoking articles. Grab a cuppa and join the debate, your contribution is always welcome.
---
Posted by: Editor in Campaign Aug. 22, 2014, 12:56 p.m.

Yes Declaration achieves target
At 4pm on Thursday, August 21, the precise number of signatories was 1,001,186
Posted by: Editor Aug. 10, 2014, 12:39 p.m.

Boris Johnson makes a calculated statement prior to the referendum
In what can only be considered a calculated statement 6 weeks before the referendum Boris Johnson has demolished the more powers pledge made by the No campaign parties only 5 days ago.
Posted by: Editor in History Aug. 3, 2014, 11:30 a.m.

Anniversary of war being declared
It will be difficult for anyone not to be aware that today marks the 100th anniversary of the start of the First World War as the mainstream media, encouraged by Westminster politicians, are devoting so much time and space to it.
Posted by: Editor in Campaign, Humour Aug. 1, 2014, 10:19 p.m.

Paws and Claws Up for Yes
There is an ever growing list of groups supporting a Yes vote in the referendum on September 18th. We have NHS for Yes, Farming4Yes, Women for Independence, Labour for Independence, Lawyers for Yes and lots, lots more.
Posted by: Editor July 27, 2014, 11:14 a.m.

UK Government leaflets coming out
Our undercover Yes Mole at the heart of the UK Government has told us their next booklet is being sent out by Royal Mail from Monday August 4th onwards.

From the surviving members of the 1971 UCS workers
To return to our nautical theme it would seem the No campaign scaremongering on shipbuilding has just been blown out of the water.
Posted by: Editor in Technology July 15, 2014, 10:03 a.m.

Scotland's own top level domain available from noon on July 15th 2014
The .scot top level domain will be available from noon today (July 15th 2014). The TLD will be available from all good registrars.
Posted by: Editor in Campaign June 25, 2014, 8:26 p.m.

The results are in...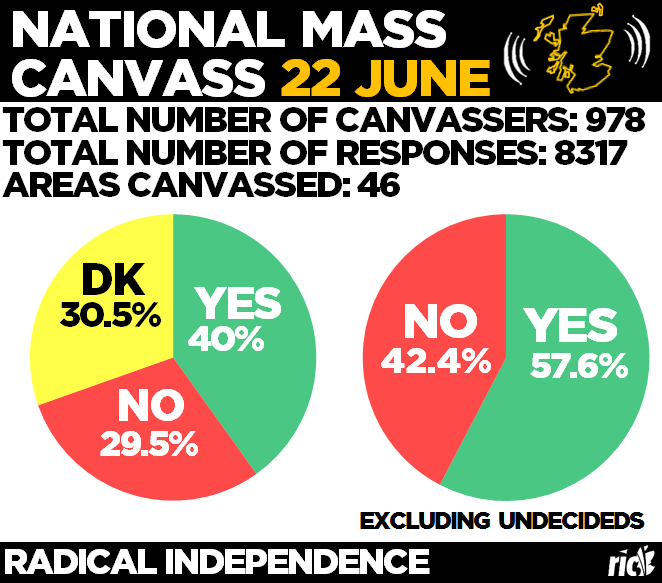 Posted by: Editor in Humour, Polling June 11, 2014, 2:50 p.m.

1966 and all that
We were looking around on the website of the polling organisation Survation when we came across a little curiosity of a poll commissioned by the Huffington Post and published on June 11th.

Ooh, it's getting close
This latest poll commissioned by the Sunday Herald and conducted by Panelbase has No on 52% and Yes on 48%. This poll would seem to confirm the continuing move from No to Yes. Could we see parity or perhaps even a Yes lead before the end of the month? If we did it might be quickly followed by other newspapers changing their stance and even some major political defections.