The Yes movement never went away and yet there is a feeling in the air that a resurgence is on-going. It might be that recent events have further strengthened the case for independence or that our opponents have weakened or a combination of both factors. The biggest influencing event is, of course, Brexit, which at a stroke demolished one of the pillars supporting the union between Scotland and England. During the previous IndieRef Better Together, and their supporters, argued that an independent Scotland would, at best, take years to get back into the EU. Those of us on the Yes side countered that the real threat to Scotland's membership was an impending in-out EU referendum. The Chris Cairns' Bull Bridge cartoon, published in January 2013, neatly encapsulated both of those arguments.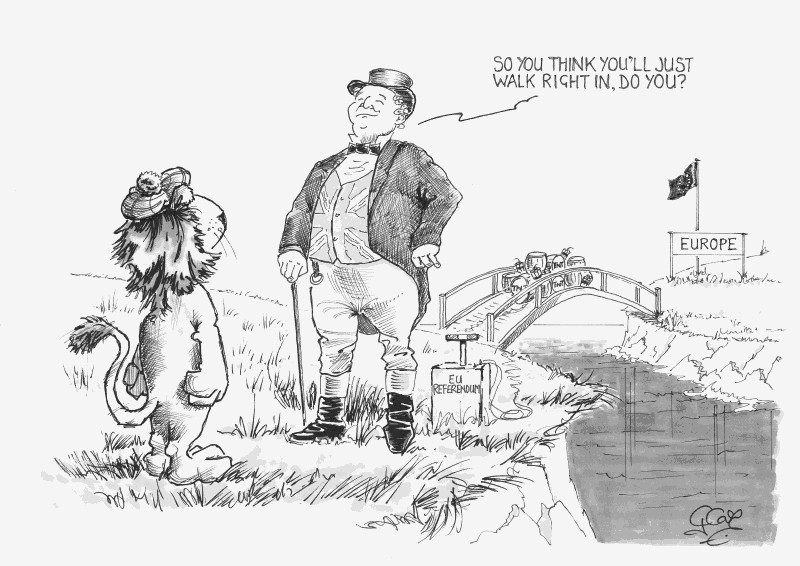 However, as usual, the Yes campaign message was drowned out by a cavalcade of partisan commentators, job seekers and chancers paraded by a media with an agenda. Now, only a few short years later we could say "we told you so" but there is little point, it is better that we get on with fixing a problem which wasn't of Scotland's making. Scotland voted comprehensively to Remain in the EU but the slim majority to Leave from the much more populous England & Wales will pull us out. A real world example of the democratic deficit in action.
Online petitions demanding another EU referendum are very newsworthy but will not be successful as they don't carry the same weight as democratic plebiscites. The Tory Government regardless of who wins the leadership contest will proceed with Brexit as to do otherwise would cause a civil war within the party far worse than anything before. Even if the Labour party wasn't busy ripping itself apart there isn't anything they could do outwith government. However, there won't be any appetite from either Labour or Tories for a general election as they both know that it would be a golden opportunity for UKIP to clean-up at the polls. Labour would possibly be even more susceptible to a UKIP surge in the Leave friendly north of England, particularly as Farage & Co. now position themselves as a populist anti-establishment alternative. Brexit for the UK is guaranteed, the remaining question is what we can do about it in Scotland.

The likelihood of a working solution where Scotland remains both in the UK and the EU seems vanishingly low. It would be unworkable having Westminster, a non-EU government, legislating for Scotland in the EU. The EU Council, depending on the topic being discussed, would sometimes require to have a minister from Holyrood and sometimes from Westminster, invariably from different political parties. That kind of arrangement just wouldn't work and besides the EU is an organisation whose members are independent nation states.
Scotland leaving the EU and then re-joining some time later would be detrimental for: individuals currently living in Scotland, Scottish citizens living in the EU and for the economy. The optimum solution would be for Scotland to have continuous membership of the EU, firstly as part of the UK but then as an independent nation state. This is where our old friend time comes back into the equation.
If the next Prime Minister invokes Article 50 in October, the rUK would be leaving the EU at the latest 24 months later. However, for Scotland to have an unbroken EU membership we need to achieve our independence within that 2 years time-frame. From the white paper, Scotland's Future, the process of Scotland achieving independence was expected to take 18 months. Taking these two dates together we see that we have, at most, 6 months spare to reach an agreement with the EU and organise an independence referendum (although some wise heads are probably working on both already).
If Article 50 were invoked in October, an independence referendum couldn't be held much later than May, 2017.
It would be completely undesirable to go into a independence campaign without a clear commitment from the EU confirming Scotland's membership, for exactly the same reasons as the last time. Furthermore, the ideal solution would be for Scotland to stay in the EU as the successor state which means we would assume the same agreements as the UK has now. That would minimise the amount of disruption for businesses and individuals both in the EU and in Scotland. If we knew well in advance that we were to be the successor state it would also be extremely good for attracting businesses wanting an English speaking base to sell into the EU.
Whatever the factors are contributing to the Yes resurgence, the timing for a new website couldn't be better. More importantly, the timing for a new independence referendum couldn't be tighter or more pressing. Brexit is our "material change" and now, more than ever, we need to be bold and decisive. To safeguard our membership of one union we need to loosen our bonds with the other and we need to be quick about it. The time is now.
We even have the prospect of the self-proclaimed new Thatcher heading the UK government to give us extra impetus.
We bid you a warm welcome to our new website and look forward to receiving your comments.
---
Posted by: Editor in EU July 9, 2016, 5:07 p.m.
---